2020. 10.12-2020.10.18
2020. 10.12-2020.10.18
Valencia mourns the death of the former jersey administrator of the club.
瓦伦西亚哀悼俱乐部前球衣管理员的逝世。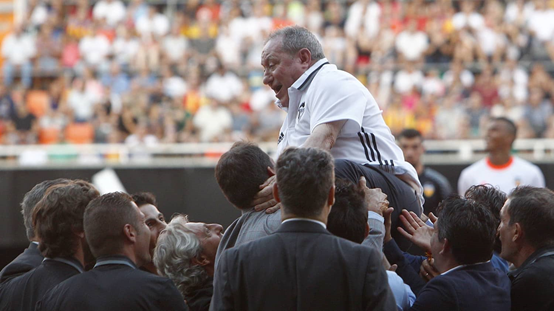 Bernardo España, the former jersey manager of Valencia, has died at the age of 82.
巴伦西亚的前球衣经理贝尔纳多·埃斯帕尼亚(BernardoEspaña)享年82岁。
Espania is a legend in Mestalla, he is regarded as one of the most popular figures in the history of the Valencia club.
Espania是Mestalla的传奇人物,他被认为是Valencia俱乐部历史上最受欢迎的人物之一。
According to Bernat Espanha's wishes, his ashes will be swayed on the court in Mestalla, which is the happiest place in his life. The club and Espanha's family will be in In the next few days, a ceremony will be organized to fulfill the final wishes of the jersey administrator with several club ambassadors.
按照Bernat Espanha的意愿,他的骨灰将在Mestalla的球场上摇摆,这是他一生中最幸福的地方。俱乐部和Espanha的家人将在接下来的几天内举行仪式,以实现球衣管理员与几名俱乐部大使的最终愿望。
On Thursday, all the players of the men's and women's first teams observed a minute of silence before their respective training sessions. Before Mestalla's next symptomatic Getafe home game, there will be a minute of silence, and in the away game against Villarreal this weekend, the team will wear a black armband .
在星期四,男女一线队的所有球员在各自的训练课前默哀了一分钟。在梅斯塔拉(Mestalla)下一场有症状的赫塔菲主场比赛之前,将有片刻的沉寂,在本周末对阵比利亚雷亚尔的客场比赛中,球队将戴上黑色臂章。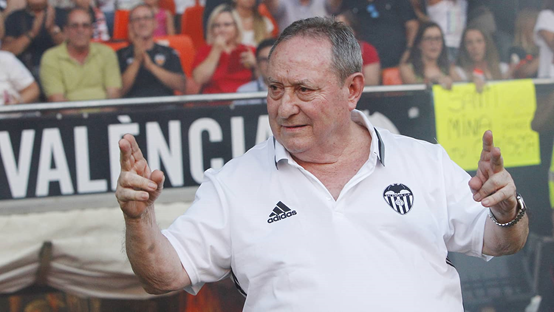 Anil Musi said: "This is a sad day. I will miss Espania very much. I have seen him wearing a jersey and carrying a football many times in Paterna Sports City. Players I respect him very much. He has loved the Valencia Club throughout his life. I would like to express my condolences to his family... It is a sad day for everyone. I hope we can remember and give this Tribute to the legend of Valencia. We are considering how to achieve this goal."
阿尼尔·穆西(Anil Musi)说:"今天真是可悲的一天。我会非常想念Espania。我已经看到他在Paterna Sports City多次穿着球衣,踢过足球。球员们我非常尊重他。他一直都很喜欢巴伦西亚俱乐部他的一生。我要向他的家人表示哀悼...这对每个人来说都是悲伤的一天。我希望我们能记住这个致敬并将其献给瓦伦西亚传奇。我们正在考虑如何实现这一目标。"
The club ambassador Bosio was one of the people who paid tribute to the passing jersey administrator: "He is an example to follow. No matter how much wealth he has, he shows us how to live a happy life. Look at how he stayed here. For many years, and with the players with him, you can experience all this. He is always optimistic, it doesn't matter what bad things happen. He doesn't just talk about it; he also shows you all this with his own attitude. Football. Athletes are very grateful for this...you will not find a player who criticizes him. He has never clashed with anyone in the locker room. This is part of his nature, he is always in the right position. Everyone loves him. "
俱乐部大使博西奥是向这位去世的球衣管理人致敬的人之一:"他是一个榜样。无论他有多少财富,他都向我们展示了如何过着幸福的生活。看看他如何留在这里多年以来,在球员的陪伴下,您可以体验到这一切。他总是乐观,不管发生什么坏事,他都不会只是谈论它;他还向您展示这一切。足球,运动员对此深表谢意……您不会找到批评他的球员,他从未在更衣室与任何人发生冲突,这是他本性的一部分,他始终处在正确的位置。每个人都爱他。"
Ricardo Arias said: "Even people who don't know him like him, let alone the players who have worked with him for so many years. This is our real loss. The fans love him and we admire him... …España has always been the best member of the club. He has never refused any request from the club. He likes this job very much, and it can be said that he was born for this job. We will pay tribute to him. , The club will definitely make every effort to support his family."
里卡多·阿里亚斯(Ricardo Arias)说:"即使是不认识他的人都喜欢他,更不用说和他一起工作了这么多年的球员了。这是我们的真正损失。球迷们都爱他,我们佩服他………西班牙一直是俱乐部的最佳成员,他从未拒绝俱乐部的任何要求,他非常喜欢这份工作,可以说他是为这份工作而生的,我们将向他致敬。一定会尽全力支持他的家人。"
Gaya, one of Valencia's current captains, also expressed his sadness: "To all Valencians, today is a very sad day. Espania has left us. I want to express to his family. Condolences. I only have good memories of him; he keeps us smiling in any difficult moments, he likes to joke, I believe he will continue to cheer for his beloved Valencia in the sky... Most importantly, I remember The scene when he introduced himself. He will always be the last to play and Mestalla will stand and applaud for him. I believe that he will continue to support Valencia wherever he is."
巴伦西亚现任队长之一加耶(Gaya)也表示悲伤:"对所有巴伦西亚人来说,今天是非常难过的一天。西班牙已经离开了我们。我想向他的家人表达。慰问。我对他只有美好的回忆;他在任何困难的时刻都会让我们微笑,他喜欢开玩笑,我相信他会继续为他心爱的瓦伦西亚欢呼雀跃。最重要的是,我记得他介绍自己时的情景。他将永远是最后一位上场,而梅斯塔拉将为他鼓掌鼓掌。我相信,无论他身在何处,他都将继续支持瓦伦西亚。"
Source: Valencia official website
资料来源:瓦伦西亚官方网站
Website: www.valenciacf.com
网站:www.valenciacf.com
1. According to the Spanish "Daily Sports" quoted by the British "Times", the owner of Leeds United, Radrizani, intends to acquire the Valencia Club. However, Radrizani wants to acquire Valencia and may need the help of other investors. {Live it}
1.根据英国《时报》援引西班牙《每日体育》的报道,利兹联队的老板拉德里扎尼打算收购瓦伦西亚俱乐部。但是,拉德里扎尼(Radrizani)要收购巴伦西亚(Valencia),可能需要其他投资者的帮助。 {生活}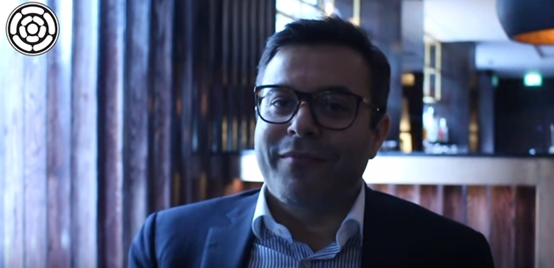 2. The Valencian Minority Shareholders Association issued a statement calling on Valencian fans and supporters from all over the world to join the crowdfunding to purchase shares in Lin Rongfu and Meriton Group. {Tiger sports}
2.巴伦西亚少数民族股东协会发表声明,呼吁世界各地的巴伦西亚球迷和支持者加入众筹活动,购买林荣富和美利通集团的股份。 {老虎运动}
3. Valencia midfielder Kondobia publicly fired on Valencia chairman Anil Musi on Instagram: "After ruining an ambitious plan, you go to cheat your coach again, and now you come again Lie to me, thank you, Anil Musi." {虎扑体育}
3.巴伦西亚中场球员科多比亚(Kondobia)在Instagram上向瓦伦西亚主席安尼尔·穆西(Anil Musi)公开开枪:"在破坏了雄心勃勃的计划之后,您再次欺骗了教练,现在您又来骗我了,谢谢安尼尔·穆西。" {虎扑体育}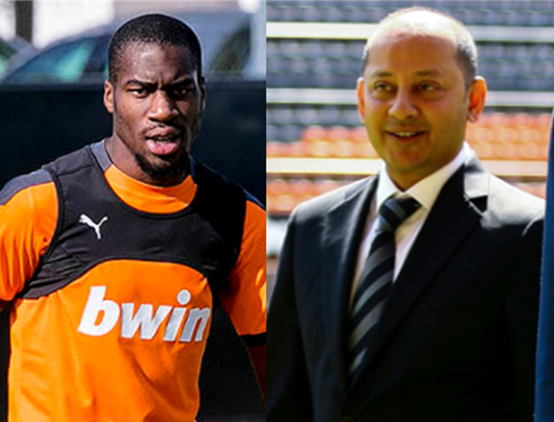 5. The 12th International Sports Management Master Training hosted by the Valencia Club Basic Training Center and ESBS European Sports Business School has officially started. The kick-off ceremony was held in the VIP box in Mestalla on October 14. The president of the Valencia Club Musi delivered a speech to 93 students from 25 countries. {Official website of Valencia}
5.由瓦伦西亚俱乐部基础培训中心和ESBS欧洲体育商学院主办的第十二届国际体育管理硕士培训已正式开始。开幕仪式于10月14日在梅斯塔拉(Mestalla)的VIP礼盒举行。瓦伦西亚俱乐部穆西(Valencia Club Musi)主席向来自25个国家的93名学生发表了演讲。 {瓦伦西亚的官方网站}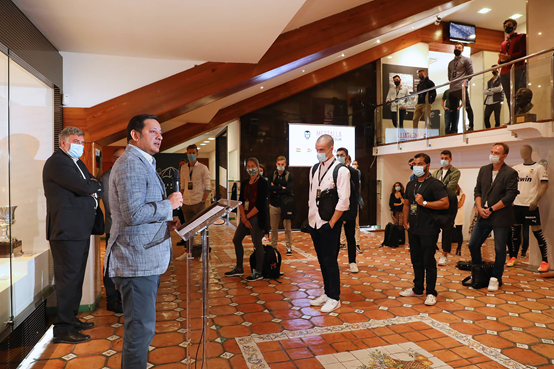 7. The Swiss Sports Research Institute Football Observatory (CIES) has calculated the transfer fee expenditures of the five major European league clubs to build the existing lineup. Among them, Manchester City tops the list with 1.036 billion euros, and Wo Lun ranks 31st in the five major leagues with 189 million euros. {Understand the ball Emperor}
7.瑞士体育研究院橄榄球天文台(CIES)计算了五个欧洲主要联赛俱乐部的转会费支出,以建立现有阵容。其中,曼城以10.36亿欧元名列榜首,沃伦以1.89亿欧元名列五个大联盟中的第31位。 {了解球皇}
1. "Marca" revealed that Atletico Madrid's offer to Kondobia was only a 15 million loan + selective buyout offer, so the club made it clear to Kondobia that it would not let it go. . {Tiger sports}
1."马卡"透露,马德里竞技队对科多比亚的报价仅为1500万美元+有选择性的收购要约,因此俱乐部向科多比亚明确表示,它不会放手。 。 {老虎运动}
2. According to Spanish TodoFichajes reports, Valencia intends to reinforce the central defender's position in the winter window, and they have the name of AC Milan defender Musacchio in their list of signings. {Live it}
2.根据西班牙人TodoFichajes的报道,瓦伦西亚打算加强冬季中窗的中央后卫位置,他们在签约名单中冠以AC米兰后卫穆萨基奥的名字。 {生活}
4. Five members of the Valencia Women's Second Team were tested positive for the new crown. The entire B team and coaching staff have been isolated at home. {Official website of Valencia}
4.巴伦西亚女子第二支球队的五名成员被测试为新王冠阳性。整个B团队和教练组人员都被隔离在家里。 {瓦伦西亚的官方网站}
5. Kondobbia has a discomfort in his right heel and is currently undergoing treatment until medical approval is obtained. {Official website of Valencia}
5. Kondobbia的右脚脚跟不适,目前正在接受治疗,直到获得医学批准。 {瓦伦西亚的官方网站}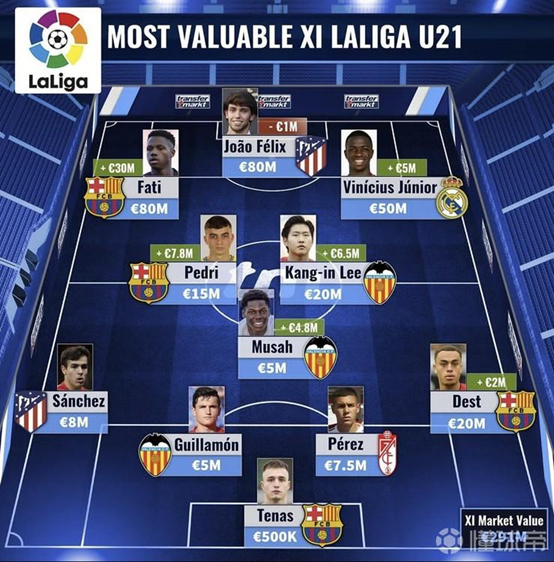 9. Athletic Gijon in the Division 2 away game to Real Oviedo 0-1, Xavi-Fuego has 500 games in the league, and is also his 550th appearance in all competitions. {Understand the ball Emperor}
9.希洪竞技(Gijon)在第2分区客场对皇家奥维耶多0-1的比赛中,哈维-福戈(Xavi-Fuego)在联赛中有500场比赛,也是他在所有比赛中的第550次出场。 {了解球皇}
1. Musi: "Boss Lin Rongfu wants to sell the team? This is a completely non-existent thing. In this age, you can't tell who is the real reporter and who is the fake reporter. This kind of rumors, as long as you have the Internet, Just have a social account and you can send it at will. There are always people with bad intentions who want to slander other people or organizations by creating fake news." {Know the ball Emperor}
1.穆西:"林荣富老板想卖掉这支球队?这是完全不存在的事情。在这个时代,你无法分辨谁是真正的记者,谁是假记者。只要您拥有互联网,只要拥有一个社交帐户,您就可以随意发送它。总是有恶意的人想要通过制造假新闻来诽谤其他人或组织。" {知道球皇帝}
2. Gracia: "I have never regretted it, nor will I regret it in the future. I can't use words to describe how happy I am to be a member of this club. In the process, there will be some things that make you happy, or make you happy. You are sad, you have to distinguish the situation. I have no reason to change my feelings. I will tell my players about this. Ideally, I will stay in Valencia's position for a long time and we will win. A lot of honors, to achieve some other goals." {Live it}
2.格拉西亚(Gracia):"我从不后悔,将来也不会后悔。我无法用语言来形容我成为这个俱乐部成员的快乐程度。在此过程中,会有一些事情发生让你快乐,或者让你快乐。你难过,你必须区分情况。我没有理由改变自己的感觉。我会告诉我的球员。理想情况下,我会在瓦伦西亚的位置上待很长时间,我们将赢得胜利,并获得许多荣誉,以实现其他一些目标。" {生活}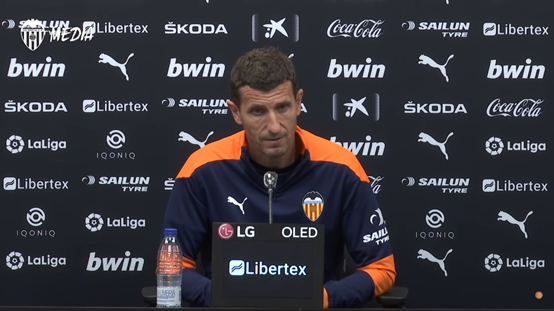 4. Maxi Gomez: "In the national team game, I was able to learn football skills from close range from what I think is the best No. 9 striker in the world. I mainly learn their basic skills as a center. Of course, their era It's not over yet, I still need to wait patiently." {Understanding Ball Emperor-Beloved Valen}
4.马克西·戈麦斯(Maxi Gomez):"在国家队比赛中,我能够从我认为是世界上最佳的9号前锋的近距离学习足球技能。我主要学习他们作为中锋的基本技能。他们的时代还没有结束,我仍然需要耐心等待。" {了解球皇钟爱的瓦伦}